American Marketing Association Collegiate Chapter
The American Marketing Association Collegiate Chapter at the University of Arkansas is a student-run organization dedicated to providing students with the tools, real-world experience and networking opportunities that will aid them in their careers through involvement with both the University of Arkansas and the community.
Purpose
In addition to working with non-profit companies to create marketing campaigns, organizing fundraisers, and offering guest speakers throughout the year, they also take 3-5 students to the AMA International Collegiate Conference yearly to aid in our chapter's knowledge and operations. Each year AMA strives to perform above and beyond all expectations to benefit the students and the University of Arkansas.
Contacts
Advisors:
Nicole Cox (ncox@walton.uark.edu)
John Cole (jcole@walton.uark.edu)
President: Alex McGowen (armcgowe@uark.edu)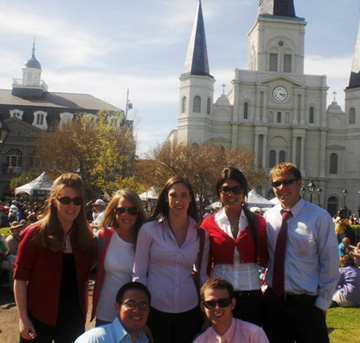 Chapter Awards and Recognition
2008-2009 Outstanding Community Service Award
2009-2010 Outstanding Chapter Plan
2009-2010 Outstanding Community Service Award
2010-2011 Bronze Chapter Award (for excellence in collegiate chapter performance)
Bronze Award in "Top Chapters" Category (#3 chapter in the nation)
2011-2012 Outstanding Community Service Award
2013-2014 AMA Students Design Potential New Product for Spectrum Brands
AMA Hosts Annual 5K Race for an Educated Kenya